Fear of Fifty: A Mid-life Memoir
Twenty years ago she showed a generation how to soar in Fear of Flying...
Fear of Fifty is the midlife memoir that reads like fast-paced fiction as it flashes back and forth in time to tell at last the truths at the heart of Erica Jong's novels. Poet, novelist, essayist, Jong is a charter member of what she calls "the whiplash generation," with a front seat on the roller coaster American women have been riding for decades.
Raised to be Doris Day, growing up wanting to be Gloria Steinem, today's women have had their expectations raised and dashed, as they've watched themselves go in and out of style like hemlines. Now, as she and her contemporaries look for answers to the second half of their lives, Jong offers powerful and provocative insights into sex, marriage, and aging; feminism, motherhood and family; identity and love, loyalty and loss, drawn through the brilliant prism of her own experience.
Reviews:
"The millions of readers who bought and loved Ms. Jong's earlier books will certainly want to add this to their collections."
—The New York Times Book Review
"Unrestrained, passionate, and often outrageous."
—USA Today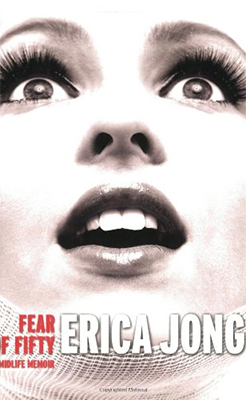 Fear of Fifty: A Mid-life Memoir
Share This Site: