Love Comes First: A Collection of Poems
Long-awaited return to her poetic roots.
Here is Erica Jong's first book of all-new poems in more than a decade. Known and beloved for Fear of Flying and her many other books of fiction, nonfiction, and poetry, Jong expounds on the eternal, universal topic of love. Using brilliant imagery and intense metaphorical insights to capture love in all its facets — the heights of elation, the depths of sorrow, and the longing of desire — Jong reveals the full spectrum of this deepest of human emotions.
A recipient of Poetry magazine's Bess Hokin Prize, an honor bestowed also on Slyvia Path and W. S. Merwin. Jong has long been hailed by her peers, Anne Sexton has called her "all woman, but more important, all human," and Margaret Atwood said of her poetry: "Read these poems the way you watch a trapeze act, with held breath, marveling at the agility, the lightness of touch, the brilliant demonstration of the difficult made to look easy."
Love Comes First is the perfect book of poems for those who want to bring eros into their lives. And this book is also the perfect place to discover — or discover again — the brilliance of Erica Jong.
Reviews:
"The collection as a whole shows a ripened, generous, and wise spirit, less consumed with eros and more cognizant of death's shadow. These are poems that speak directly to the reader, with artifice [contrivance] but with an unshowy artfulness that leads one in, unresistingly. More pensive than celebratory, Jong speaks about serious things — loss and death and aloneness — with a kind of casual lyricism that belies what is at stake."
—Daphne Merkin
"Fresh, surprising, funny, sexy. Jong's poetic voice is enchanting as ever."
—Ken Follett
"Erica Jong's new collection of poems, Love Comes First, addresses the reader lucidly and with emotional immediacy. There is a wonderful transparency that characterizes her diction and style. These poems, often about loss and mourning, are brave and poignant, offering no easy consolations beyond human caring and remembering . . . Her seriousness and intelligence, enhanced by her musical phrasing, illuminates these poems and makes them rewarding to savor and contemplate."
--Robert Pack, author of Still Here, Still Now
"In Love Comes First, Erica Jong proves herself to be a poet at the height of her powers. Whether in poetry or prose, she has always written about what matters, and in this exquisite collection, she goes deeper than ever before, getting to the heart of our feelings about mortality from the perspective of a well-lived life. At times haunting, yet full of light and hope, these beautifully crafted poems, often grounded in her love of mythology and all things Italian, reverberate with the kind of wisdom that can be gained only with maturity and reflection. Love Comes First is a book that will inspire and give great pleasure to her many readers. Indeed, it is one I plan to keep at my bedside for frequent reading."
—Rosemary Daniell
"In this eloquent and moving volume of poems, Erica Jong remounts the winged horse of poetry, and soars. She has always, in fact, been a poet at heart: poetry was her first love, and that is reborn in Love Comes First. Jong writes in the earthy tradition of Sappho, Whitman, and D. H. Lawrence. Her verse is supple and sensuous. She writes with wit and deep intelligence. inviting us to reconsider our place on earth, to repossess our affections, to confront and deal with fears. This is a life-enhancing collection, and Jong remains a poet of great value, a poet I admire and reread, for pleasure and instruction."
—Jay Parini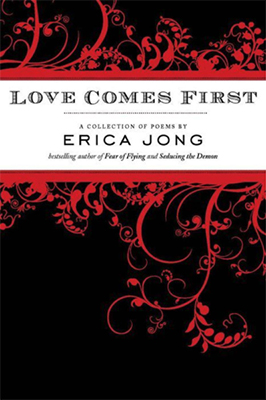 Love Comes First
Erica Jong reads two selections from Love Comes First, her first book of all new poems in more than a decade.
Listen to Erica Jong read the Poem Rapture from Love Comes First:

Also available as mp3 file
(To download, right click and "save as")
Share This Site: