Inventing Memory : A Novel of Mothers and Daughters
Inventing Memory: A Novel of Mothers and Daughters is the epic of a Jewish family in America, told through the stories of four generations of women: from the turn of the last century to the early years of the twenty-first century.
The first unforgettable heroine is the matriarch, Sarah Solomon, born in the 1880's in Russia, propelled out by a pogrom. She comes to America using her dead twin's precious steamship ticket, arriving in America circa 1905 — a world of bowler hats, elevated railways, Irish cops, and labor ferment. From humble beginnings as a photo-retoucher, Sarah establishes herself as a renowned portrait painter in New York. She lives in an unorthodox menage-à-trois with two men — one a landsman named Lev Levitsky, one a proper WASP named Sim Coppley and moves between an uptown Edith Whartonesque world of New York society and a downtown Jewish world of anarchists and artists.
Her daughter Salome, born in New York City circa 1912, carries the family's story forward into the twenties, thirties and forties.
Salome Levitsky is a flapper, a child of the roaring twenties. Always the rebel, she sails to Paris at seventeen. In Salome's journals and letters home, we meet everyone from Scott and Zelda Fitzgerald to Picasso, Gertrude Stein and Edith Wharton. We also learn of her affair with Henry Miller and her daring first novel. Salome's life changes utterly when in Paris she discovers one of her mother's best kept secrets about her past.
Salome's daughter, Sally turns out to be an extremely talented musician who becomes a world-famous folksinger in her teens, but she is hardly the tough survivor her mother and grandmother are. She is the weak link that demonstrates the strength of the rest of the chain. Fame strikes her like lightning in the late sixties but with it come all the other late-sixties plagues — addiction to dangerous drugs, hubris, grandiosity, the delusion of being the epicenter of the universe.
We meet Sally through the narrative of her daughter, Sara, born in 1978, trained as an historian, and in the process of researching family histories at the Council on Jewish History in New York. She comes to understand the nature of memory, the way we all both invent and assimilate our ancestors. In chronicling the women in her family, she also remakes her own future.
Inventing Memory turns out to be Sara's story and the story of women in the twentieth-century.
---
Reviews:
"Rich. . .brimming with trenchant observations about the eternal man-woman thing."
—New York Times Book Review
"Fans of her first novel, "Fear of Flying," will welcome Jong's most passionate novel in years."
—Los Angeles Times Book Review
"Jong uses her heroines to probe the nature of Jewish identity, the changing role of women, and the meaning of history itself."
—The Boston Globe
"Routinely, readers look to Jong for an honest view of women's interior lives, a salute to strong women and feisty sex. In Inventing Memory, Jong comes through on all counts."
—St. Louis Post Dispatch
"An unambiguous triumph. . .Inventing Memory is an astonishing achievement."
—Josephine Hart
"Here is the Jewish story that joins the other stories, the Latino story, the Italian story, the Irish story, the Asian story, the Afro-American story to form the chorus of the many voices that are singing and enriching America."
—Julia Alvarez
"A sexy tale celebrating the strength and creativity we inherit from our mothers."
—Glamour
"Ms. Jong's writing sparkles with wit and intelligence all the way."
—Atlantic Monthly
"Mothers. Daughters. Men. Sex. No one mixes this potent cocktail with greater glee than Erica Jong. . .Juicy."
—Ladies Home Journal
"Playful and ambitious."
—New York Daily News
"[A] heartfelt work."
—Kirkus Reviews
---
Excerpt: Prologue
Sarah's Story
PEOPLE WHO CAN'T SLEEP
1905
Death does not knock at the door.
—Yiddish proverb
Sometimes, in dreams, my first-born son comes back to me. I think he is my guardian angel. "Mama, mamichka, mamanyu, mamele," he says, "let me warn you..." And then he tells me something about some man in my life, or some business deal — and always it turns out that he is right, though I never quite remember his words when I awake. He speaks in that dream language of the dead. His presence itself is a warning. I can't remember his voice either, but I do know what he looks like: he wears a tall black silk hat, a fur-lined silk pelisse. His cloak is trimmed with sable. He has a long beard — he who never learned to walk, let alone to grow a beard. He is a man — who was always only a baby — but that baby smell clings to his sweet neck, and in the dream I know he is both baby and man for all eternity. I have lost him and yet I have not lost him. He lives in a country to which only death provides the key.
I had come home to Sukovoly from Odessa where I was apprenticed to a photographer, retouching sepia portraits of the gentry. Only seventeen and as foolish about boys as I was smart about pictures, how could I know I was pregnant? How could I know how I got that way? Another long story for another rainy night.
When my Mama realized what was happening to me, she raved and screamed and tore her hair. Then she calmed down. "With babies come blessings," she said, murdering some proverb. And she got excited about her first grandchild.
He was such a sweet baby, my David, my Dovie, my little man. He latched onto my breast and sucked as if all the world were in my nipple and he meant to devour it. But that night the Cossacks came and we hid in Malka's barn, I knew that my life and Mama's and my sister Tanya's and my cousin Bella's and my little brother Leonid's all depended on silence. So when my darling Dovie started to whimper, I took out my breast and crammed it in his mouth, hearing him suck, suck, suck and be silent.
My heart was beating like a drum, my breath was almost held with fear, the metallic taste of terror was in my mouth as if I were drinking from a rusty cup put down into a cold clear well. I was praying with my whole soul for all those lives (including mine and his), and for a while God must have heard, for the baby sucked and sucked and all I could hear was the pounding of my own heart. But then the little wiggling one squirmed and began to whimper. He needed to be held upright. He needed to be burped. I was not sure I could do this without betraying us all. Biting my tongue, I carefully raised him to my shoulder, patted his little back and held him until he gurgled up from his depths a noisy air bubble and then he spit sour milk over my breast and my shoulder.
The Cossacks had been stomping around below us, sticking their bayonets or swords or whatever they had into bales of hay but when the baby started to whimper they also stopped and listened. Then there was no sound but their boots dragging the hay with a sort of swishing. I clapped the baby on my breast so fast I might have been a gunfighter drawing for a shootout in one of those silent movies they had when I first came to America. The baby sucked and sucked again, and I very quietly let the air return to my lungs and felt them expand beneath the baby's moving mouth. When he became quiet and seemed to sleep, I did not notice, because of the ruckus and screaming down below. The Cossacks had caught a calf and were running him through with their horrible instruments and he was making wild animal noises, almost the noises of a child--a child who would never nurse again. It was only when the Cossacks had gone galloping off to the next slaughter, the next shtetl, that I realized my boy did not draw breath.
Later, I sat dumb for two weeks, neither eating nor sleeping, staring into the middle distance, but seeing nothing. I could not cry or scream or even speak. And mama brought me soup and said that many mothers who had the strength to kill their babies lived to give birth and love again, and that her mother had known no less than three women who had put their hands over their babies' mouths in just such circumstances. One died. One was made strange for life. And one limped like an idiot. This made me feel worse, not better. I had not the will to say, "Mama, I did not choke him. I only nursed him." But really I cannot remember every motion I made in that dark barn with the rats scuttling and the Cossacks stomping and my terror that once again my little Dovie would whimper and doom us all.
What does not kill you makes you stronger, goes the proverb. And surely losing my first-born angel made me know how hard the world is and that life is no picnic.
But Dovie comes back to me again, a grown man with angelic inky baby eyes and a full beard, whenever I need him most. Why he had to go ahead of me to the other world I will never understand, but in some way he is a herald. He watches over my life.
"He is an angel," Mama had said, "and we are alive."
I hated her for thinking I had killed him, but perhaps that is what I thought myself. I will never really know until I meet my son again in the other world.
It was not only his death that caused me to go to America. It takes the sacrifice of at least three men to set a woman on her road.
A week later the Cossacks came back and burned down the shul and everyone in it — including my twin brother Yussel — may he rest in peace--and my father of blessed memory. Yussel already had the precious ticket to go to America. Despite her grief, my Mama dressed me in my brother's clothes — though it was forbidden — gave me his ticket and ordered me to go to America. That was the sort of woman my Mama was. Of course, I was to bring them all to the Golden Land as soon as I could.
"You are the man of the family now," she said, giving me permission for the rest of my life.
Death can be a blast of courage, fuel for a journey you are afraid to take. Death can make you seize whatever courage you have. And it was the force of these three deaths that propelled me across the perilous border, across the dark continent on foot, through haystacks alive with biting insects, through breakfasts and dinners of sour black bread, through humiliating searches and sea-sick nights that seemed to go on forever. It was Dovie's death — and my brother's and my father's — that took me across the sea and deposited me in a basement flat in skyless New York right next to a coal vault where the dumping and shifting of the coal substituted for the sounds of the crickets on a starry night.
All the stories that have ever been told are the stories of families — from Adam and Eve onward. When I think of my child and her children (including my darling great granddaughter Sara) and how they live, I realize that no leap of empathy can make them understand how close to the bone we were on that journey, on that crossing, in that coal black flat below ground. My kinder have lived in London, Lugano, Venice, Hollywood, Montana, Manhattan — nothing's too good for them. Interest rates they worry about — and development deals and final cut. They collect first editions, Georgian silver, polo ponies,contemporary art. They accumulate heavy things that cannot be moved in a pogrom. This is a measure of how secure they feel. They do not expect that the Jews will be trapped in Benedict Canyon as in the Warsaw ghetto. They do not expect to be chased over the Rockies as over the Pyrenees. They are complacent, their troubles are psychological. I made them that way. I made them secure — I with all my insecurity. Or perhaps it was Dovie; perhaps he is the guardian angel of the whole family.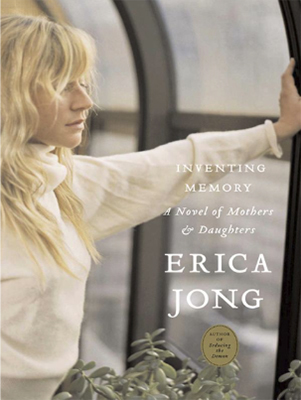 Inventing Memory
Share This Site: