What Do Women Want?: Reflections on a Century of Change
Jong's work will last with some of the best and most original that this century has produced." —Naomi Wolf
From the bestselling author of Fear of Fifty comes a provocative, often controversial look at where women have been, where they are now, and where they are going as they approach the new millennium.
Long before Camille Paglia assailed political correctness and Gloria Steinem turned introspective, Erica Jong was exploring the war between the sexes with wisdom and humor. Never predictable in her take on issues, always witty and commonsensical, Erica Jong has always been our best hope for a much-needed truce between the sexes. In this fascinating and insightful new book, she brings together the very best of her meditations on subjects ranging from Hillary Clinton to writing for love, and adds to them new writings on men, women, sex, and the secret of what women really want.
Reviews:
"Jong at her very best--a kind of master class in real life. . .she combines memoir and essay in a completely readable, hilariously opinionated, brilliantly well-informed book."
—Susan Cheever
"Jong's zesty opinions...on lovers and politicians, daughters, great writers and romantic, hidden places. She is a wise and witty guide through the morass."
—Marie Brenner
"The eclecticism of the collection is its real pleasure. . .nutty nuggets of politics, soft-centered personal reflections, melting confections of fantasy. . .meditations on literary themes and tributes to favorite authors."
—The Wall Street Journal
"Jong's work will last with some of the best and most original that this century has produced. She treats her work as a sacred calling...rather than a career move. For this reason she will continue to enrage her contemporaries and she is sure to outlast them."
—Naomi Wolf
"As she did in her best-selling memoir, "Fear of Fifty", (1994), Jong lays it on the line in these potent essays about women's lives, writing with acuity, gutsiness, and humor. She presents clarifying, emphatic, yet not uncritical analyses of the tragedy of Princess Diana and the martyrdom of Hillary Rodham Clinton, arguing convincingly that the Clintons have "revolutionized" the institutions of American political marriages and First Ladyhood and helped the nation "grow up sexually." Jong muses on the question of why life for "brainy" women is so difficult and ponders the source of the ongoing castigation of working mothers. She also shows off her literary smarts and unwavering support of the freedom of expression in fresh and discerning discussions of the unexpurgated journals of Anais Nin and the cyclical censorship of Nabokov's "Lolita", a novel no U.S. publisher would touch in he 1950's and now no movie conglomerate will distribute in its latest film incarnation. If a film depicted "an adolescent girl carved up by cannibals," Jong suggests, it would have been released with '"remarkably less fuss," but hint at underage sexuality and pedophilia and look out. Whether she's writing about literature, mothers and daughters, or the "perfect man," Jong is vigorous, bright, and forthright."
—Booklist, July 1998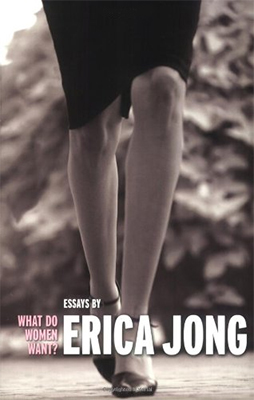 What Do Women Want?
Share This Site: