The World Began With Yes: Poems
Erica Jong is a celebrated poet, novelist & essayist with over twenty-five published books that have been influential all over the world. Her most popular novel, Fear of Flying, celebrated its 40th anniversary in 2013. Never out of print, it has sold over thirty-five million copies translated into over forty-five languages including Chinese and Arabic. Erica's latest novel, Fear of Dying, was published in 2015/2016 with many publishers all over the world. Her awards include the Fernanda Pivano Award for Literature in Italy (named for the critic who introduced Ernest Hemingway, Allen Ginsberg, and Erica Jong to the Italian public), the Sigmund Freud Award in Italy, the Deauville Literary Award in France, the United Nations Award for Excellence in Literature, and Poetry magazine's Bess Hokin Prize (also won by Sylvia Plath and W.S. Merwin). Erica's poetry has appeared in publications worldwide, including the New Yorker, the LA Times, the Paris Review, Haaretz, and many more. Erica lives in New York and Connecticut with her husband and two poodles.
Reviews:
A forever fan and devoted student of Erica Jong's poetry, her work has inspired me for as long as I can remember. Her newest book simmers with passion, wisdom, and joy. Enter her "red forest of love" and drink the poetry of Erica Jong—each poem ripe with life, each one a kiss, a slap awake, an embrace, a memory and reminder that lust, longing, and desire are the architects of love. Erica tells us, "plenty & poetry" are all we need, and here we have it—a "climax of language, like lovemaking, bringing peace." Say "yes," to this collection and let the world begin.
—Kim Dower, Poet Laureate of West Hollywood, Author of four books of poetry including Last Train to the Missing Planet and Sunbathing on Tyrone Power's Grave
"In her new collection, Jong (whose 1973 novel "Fear of Flying" has sold over 37 million copies) touches on her mother's death, astrophysics and her own return to poetry, which 'came / unbidden / as it / always / does.'"
―The New York Times New & Noteworthy Poetry Feature
"From the vigor of the political to the complications of religion, from the purity of the spiritual to the riot of the body, The World Began With Yes wakes us up to say, "Yes!" Jong's poems brim with language that is supple and fierce, elegant and wise—all of it creating a feast of joy. Here we have everything great poetry is meant to be."
—Linda Gray Sexton, author of Searching for Mercy Street: My Journey Back to My Mother, Anne Sexton and Half in Love: Surviving the Legacy of Suicide.
"Erica Jong's new collection of poetry is, as its title suggests, both affirmative and exhilarating. Whether she is writing about her grandchildren, the loss of her mother, or an Alice Munro stamp, Jong's images are always vividly evocative. Her poems are filled with an equal awareness of the sensuous nature of life and its inevitable decline. This is the work of a poet in her prime, filled with candor and wisdom."
—Daphne Merkin
"Erica Jong's new book of poetry is inspiring, uplifting, exciting, stimulating, engrossing—piercing. These new poems of Erica's light up the page with tears and shouts, with wounds and exclamations, with yes, yes! That is it, that is what I feel, what I imagined, what I dreamed. Ms. Jong says she culled these poems from those she has written over the last decades, poems whose writing keeps her alive. That is what poetry is for, to keep us alive, to wake us up!! Erica has done that for me again today, kept me alive, breathing, weeping, shouting at the page, "Yes!!" This is what it takes to make a poem, to make a life. Right on the money, right on the edge, right on the heart, right on the breath, The World Began With Yes is the real deal.
Get it and read it. You need it. We all need it. In this time of agitation and fear, you will fly with Erica Jong—she brings us back to what matters—the heart, the mind, the head, the imagination—the "Yes" of life. "
—Judy Collins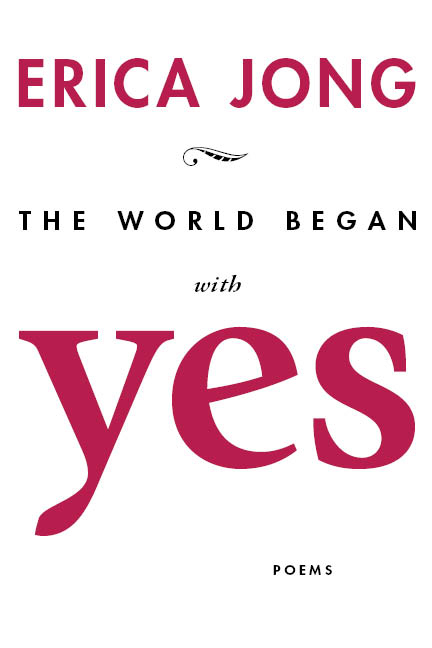 The World Began With Yes
Share This Site: